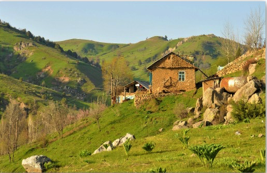 Zone Leader Central Asia: Kim Sam Seong, Th.D. Kseong@vision.edu
Dr. Kim Sam Seong, a modern-day Paul the apostle, from South Korea, has been used by God, in Kazakhstan, to plant numerous churches, along with bible colleges and training centers throughout this region. Central Asia consists of the five former Soviet republics of Kazakhstan, Kyrgyzstan, Tajikistan, Turkmenistan and Uzbekistan. Other areas are often included such as Afghanistan, northeastern Iran and western parts of the People's Republic of China such as Xinjiang, Mongolia, Kashmir, northern Pakistan, southwestern and middle China such as Tibet, Qinghai, Gansu and Inner Mongolia, and southern parts of Siberia may also be included in Central Asia.
Dr Kim and his team have planted Bible Colleges in all the Stan's, and in Mongolia and Turkey. Dr Kim shares, "God spoke to me several years ago that I must plant churches along the Silk Road, all the way back to Jerusalem. To do this I needed many workers; they had to be trained, but I did not know how. God brought Vision with Dr. Tim Dailey and others to help me; we are doing our best to raise up workers for Christ and to plant 5,000 churches by 2015…In spite of many difficulties, God is helping us."
A requirement of Dr. Sam-Seong for these pastor students is that they are not allowed to begin Bible School until they have planted three cells, and each cell must have at least three new believers in it. So, the would-be students have to lead at least nine people to accept Christ and to join a cell before they can attend Bible School. This reveals leadership possibilities and also trains students toward future leadership.
A student in Central Asia Shares
"I was both scared and excited when I heard about Vision coming to Central Asia. Though I had already started 12 home cell churches, I did not feel worthy to study, but with Dr. Kim's encouragement, I did. Now I oversee 60 home cell churches and will soon have my bachelor's degree…the first person in my family to earn this. I hope to be really used by God someday."