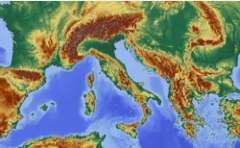 Zone Leader: Gail Stathis, D. Min. gstathis@vision.edu
Dr. Gail Stathis, Vision International World Zone Leader for Western Europe provides some perspective; "I have met with many leaders in Western Europe and they all agree that the long frost over Europe is beginning to melt. Partially driven by the Muslim invasion, and partially by the many ethnic churches being established, especially by African immigrants, there is much stirring of spiritual activity. Now is the time for Vision to establish Learning Centers and make a significant difference in Europe."
While serving in her role as pastor and administrator, Dr. Gail is heavily invested in developing leaders for ministry and continuing ministry expansion. She continues to travel as a much-sought after conference speaker, and as a fundraiser and recruiter on behalf of EME Ministries. She serves as primary leadership to EME missionaries in the field. Dr. Gail has a tremendous heart for prayer initiatives. She has led prayer trekking journeys, especially through the countries of North Africa, for the past ten years. Finally, she has added to her list of duties those of the Western European Zone Leader for Vision International Training and Education Network. She is the co-author of a Leadership and Management curriculum for the University, as well as other books and music.
Our curriculum and accreditation are specially fitted for the United Kingdom, and our goal is to establish a series of strong schools in the UK. We have made inroads into Northern Ireland and Scotland but need an actual headquarters. We have begun the process of translating materials into German. We have most of our curriculum translated into French, but it is West African French, so complete editing is needed. We will begin to reach France with West Africans who have planted strong churches in France and Belgium as an initial strategy while continuing to translate and or edit materials for the rest of the population.
Western & Eastern Europe, with multiple languages and vastly different cultures, present many challenges, including a general (perceived) lack of hunger for spiritual things. Once the hotbed of the Reformation, Western Europe is considered to be as cold as Stonehenge. Yet, in spite of the skeptical intellectualism of much of Europe, we are convinced that a great awakening is about to begin, and we want to be positioned to reap the harvest to come.