Apply for Admission
Ready to Apply?
You may complete your Application for Admission online. Please note that you must provide a valid e-mail address. You are not required to complete the application in one setting. You can save and return to your application at any time. The $50.00 USD application fee must be paid before your application can be submitted for review.
Prefer to download, print, and mail your application?
Print Application [PDF]
Vision is Internationally Accredited
Vision International University is accredited by Accreditation Service for International Schools, Colleges and Universities.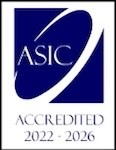 ASIC is recognised by UKVI in UK, is a member of the CHEA International Quality Group (CIQG) in USA and is listed in their International Directory, is a member of the BQF (British Quality Foundation), and are institutional members of EDEN (European Distance and E-Learning Network).