Vision International University is the world's first and largest global distance learning network for the Independent Pentecostal and Charismatic movements.
As pastors, counselors, and educators, we believe a meaningful and respected ministry degree should be practical, integrated with everyday life, and thoroughly rooted in the local church so students can stay with their families, churches, and communities while they earn a degree.
We believe that every individual Christian should be trained for ministry, and we believe in individual callings. We are committed to helping our students achieve their ministry goals.
Online Learning
Study online, with no residency requirement using our pioneering online learning platform.
University
Earn a US-authorized, internationally accredited advanced degree — primarily for students in the Majority World!
Schools of Ministry
Let us help build a School of Ministry to offer Christian Ministry training in the local church!
About Vision International
The Vision International offers both academic and vocational degree programs designed to prepare people for professional service in Christian Ministry and Community Service. Vision offers flexible and affordable distance education and online learning programs from Certificate to Master's Degree. Vision also offers local church-based training via its Resource Center outreach programs in 140 nations worldwide.
Vision International University is Internationally Accredited
Vision International University is accredited by Accreditation Service for International Schools, Colleges and Universities.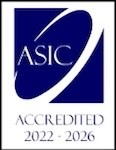 ASIC is recognised by UKVI in UK, is a member of the CHEA International Quality Group (CIQG) in USA and is listed in their International Directory, is a member of the BQF (British Quality Foundation), and are institutional members of EDEN (European Distance and E-Learning Network).
Apply Now for Admission