Online Learning
Enroll in a Vision course, certificate, or degree program online!
Vision International offers a variety of courses, certificates, and degree programs through our online learning system.
Click the link below to enroll in a course or certificate today.
Online Courses for Christian Ministry Training

Choose from dozens of certificates in Christian Ministry. Enroll in one course at a time with affordable, 0%-interest monthly financing.
Browse our selection of Certificate programs and courses offered online. Choose a course (typically the first course of your desired program) and register (click here to see "How to Register" for instructions).

Begin your studies. If you desire to formally enroll in a degree program, you must complete an application for admission and gain admission. You may take up to 12 credit hours of study without formally enrolling in a program.

Important Policy: Enrollment in individual courses only, students may take up to 12 credit hours (four courses) via Vision Online prior to formal admission into a full degree program. After 12 credit hours have been earned in individual courses, the student must follow the formal admission process and enter a degree program course of study.
For questions regarding admission policies and student services, please contact:
Maureen Kelley, M.A. at mkelley@vision.edu or by telephone at 760-789-4700, extension 1005.
________________________________________
For questions regarding finances, please contact:
• finance@vision.edu or by telephone at 760-789-4700, extension 1009.
_________________________________________
For questions regarding technical issues, please contact:
David Richardson at support@vision.edu
Vision is Internationally Accredited
Vision International University is accredited by Accreditation Service for International Schools, Colleges and Universities.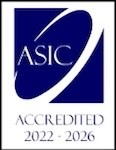 ASIC is recognised by UKVI in UK, is a member of the CHEA International Quality Group (CIQG) in USA and is listed in their International Directory, is a member of the BQF (British Quality Foundation), and are institutional members of EDEN (European Distance and E-Learning Network).