---
Become a Part of the People, Purpose, and Mission of the IAACP
---
History and Purpose of IACCP
The history of IACCP begins in conversations between Dr. Gene Thompson, Dr. Doug Jarrard (both gone home to be with the Lord), Dr. Jason Guerrero and Dr Stan DeKoven regarding the need to establish a professional certifying association of Christian Counseling professionals, that espoused the values of biblical faith with counseling service.
We are one of many such associations that have evolved as alternatives or adjuncts to State Licensure, and more liberal theological associations. IACCP is a new association, but one which is rooted in a rich history of concern and care for Christian professionals in the counseling ministry, that see counseling as ministry first and professional clinical practice, though important, as secondary.
---
Association Leadership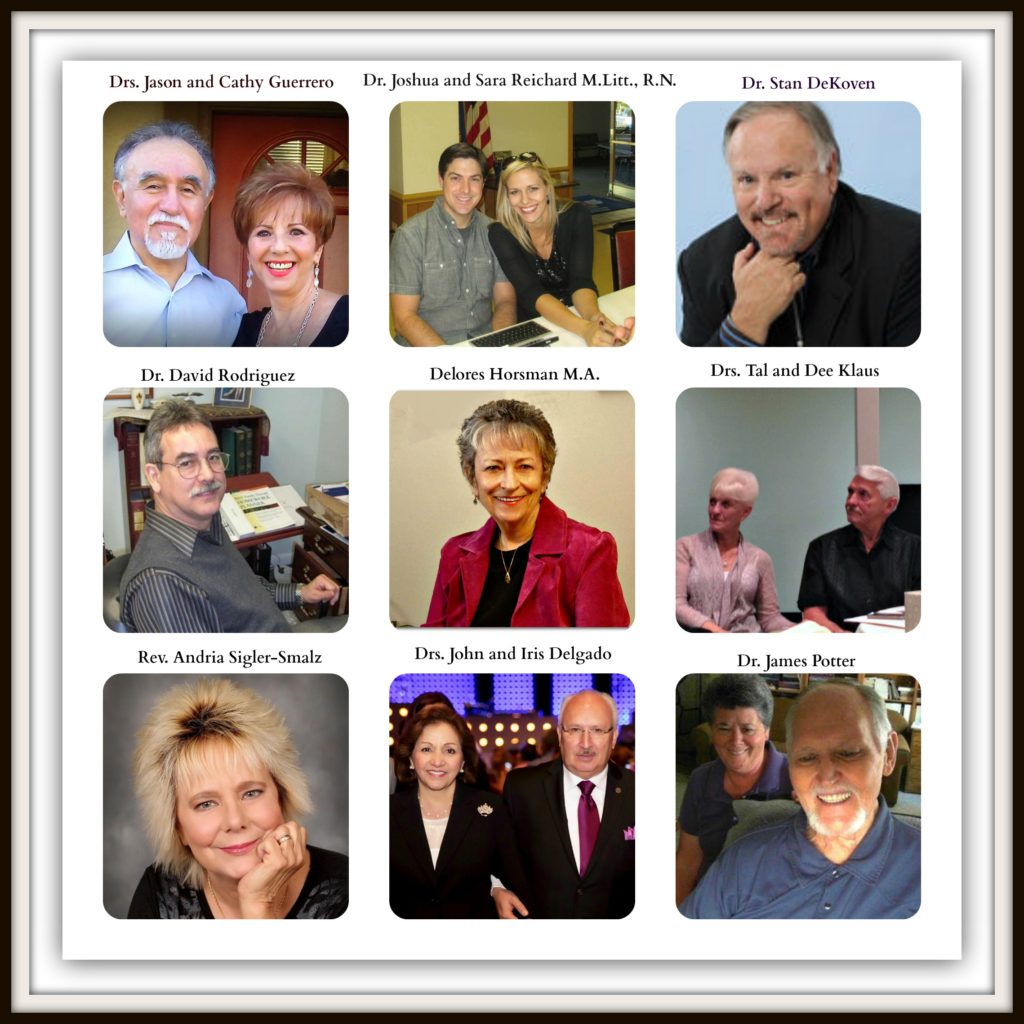 ---
Delores Horsman, M.A., Director of IACCP and Certified Clinical Christian Counselor, private practice in El Cajon California specializing in abuse cases and domestic violence.
Dr. Stan DeKoven, M.F.T., is the Founder and President of Vision International Education Services, Inc, and is President of Vision International University. Dr. Stan has served as a pastor, has authored over 35 books on a variety of subjects, is an international conference speaker, a respected and dynamic teacher of the Word, and a leader of leaders. Dr. DeKoven is a state-licensed Marriage and Family Therapist (MFT).
Rev. Andria Sigler-Smalz, Certified Clinical Pastoral Counselor, founder and Director of Journey Ministries in Southern California. She specializes is personal transformation and sexual addiction.
Dr. John and Dr. Iris Delgado, Hispanic Directors of IACCP, certified Christian Counselors in Dallas Texas.
Dr. Tal and Dr. Dee Klaus – Dr.'s Tal and Dee Klaus are Directors of Vision International Extension Institute. Dr. Tal is an associate pastor, teacher of the Word, and has ministered in prisons for 15 years along with Dr. Dee. Both are excellent counselors.
Dr. Jason Guerrero and Dr. Cathy Guerrero are founders and Pastors of Regency Christian Center International. Dr. Guerrero has his Ph.D. from Vision International University, and is a gifted counselor, along with his wife Cathy who specializes in Christian Family counseling.
Dr. Joshua Reichard, is a Clinical Sociologist and Theological/Religious Educator. He serves as the Director of Institutional Advancement for Vision International Education Network and served with his wife Sara as a missionary in El Salvador, Central America. Dr. Reichard specializes in sociological issues related to pastoral care.
Sara M. Reichard, M.Litt., R.N., is a Registered Nurse and a Family Life Educator. Mrs. Reichard has served as a medical missionary with her husband, Dr. Joshua Reichard, in El Salvador, Central America. Mrs. Reichard has served in women's shelters and inner city ministry.
Dr. David Rodriguez, after entering full time ministry became a pastor, radio broadcaster, founder of Koinonia Biblie College and President of The Therapon Institute. In 2002, he purchased property in Louisiana and brought all these ministries under one roof.